PANTERA'S PHILIP ANSELMO INTERVIEWS GHOST via Revolver Magazine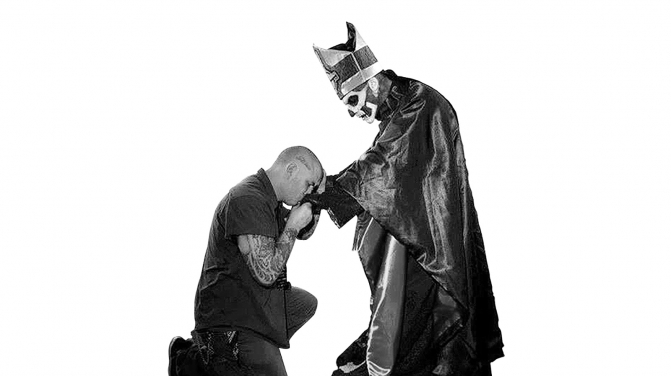 "I can't remember who sent me the damn record after all this time," Philip Anselmo says of Ghost's 2010 debut album, Opus Eponymous. "It was either good ol' Fenriz [of Darkthrone], or maybe it was Ben [Ward] from Orange Goblin — and if it was someone else, please forgive me. But because I had absolutely no info on Ghost, I originally thought it was an old band, maybe circa '82, '83, that I'd somehow missed. I asked my neighbor Mike 'IX' Williams of Eyehategod about them and he confirmed they were a current band. Besides, like Mike said, 'If it's old, how come we never heard 'em before?'"
Anselmo has, indeed, heard enough metal over the years that it would be extremely unlikely for such a band to have slipped by him. As the frontman of Pantera, Down, Superjoint Ritual, and his new solo project, Philip H. Anselmo & the Illegals, not to mention el presidente of his label Housecore Records, Anselmo has made a lot of metal, too. But as much heavy music as he has both consumed and created, Ghost — who recently changed their name to Ghost B.C. in the U.S. due to legal reasons — stand out to him. Anselmo credits their songwriting and their "huge hooks," as well as their ability to create an atmosphere live, something helped in no small part by the fact that Ghost B.C. vocalist Papa Emeritus II dresses like a satanic pope onstage while his bandmates, the Nameless Ghouls, all appear faceless in druid robes. It's little wonder that a band that resembles something out of a horror movie should resonate with Anselmo, who will launch his own Housecore Horror Film Festival this October. "They're writing slick, no-bullshit odes to Lucifer, and they play up the whole anonymous thing to the fucking hilt," he enthuses. "It really makes the entire unit fucking intriguing."
Anselmo is hardly Ghost's only famous fan. Metallica tapped the band to play their first annual Orion Music + More festival, Guns N' Roses' Duff McKagan has sung their praises, and Dave Grohl played drums on their cover of ABBA's "I'm a Marionette," which was recently released as the B-side to Ghost's single, "Secular Haze," off their new album, Infestissumam. The record expands the group's signature Mercyful Fate-meets-Blue Öyster Cult sound with carnivalesque keyboards, black-mass choirs, and even some surf guitar. "It's a lot to chew on," Anselmo comments after listening to the album. "And I like that!"
Having been in touch with the band since 2011, Anselmo prepared the questions below for the reclusive Papa Emeritus II, who only does interviews via email. However, since the devil-worshipping pontiff has chosen not to directly comment on the musicianship and content of the new album, he speaks here through one of his Nameless Ghouls.
PHILIP ANSELMO: CONGRATS ON THE NEW ALBUM. HOW WAS THE RECORDING PROCESS IN COMPARISON WITH OPUS?
NAMELESS GHOULThank you. The major difference was our first album was recorded in a small basement studio in our hometown [Linköping, Sweden], with very little expectation or involvement from the outside and with absolutely no budget to talk about. For Infestissumam, we went overseas, to Nashville, and were pretty much stranded in the studio with no option than to work, work, work until it was finished. Overall, the production of this album went relatively painlessly. Usually when an indie band goes major, people expect there to be demands to change the style from something "alternative" to something "commercial," but there was none of that hysterically forced rewriting or dismembering of material that you hear so much about.
IS THE VISION FOR GHOST CULMINATING THE WAY YOU ORIGINALLY ENVISIONED, OR HAS "THE PATH" ALTERED YOUR PERCEPTION AND/OR OBJECTIVES?
Looking back now, I think that we are closer now to what we originally intended to be. The idea has, all along, been to be a theatrical horror-rock band with a grand stage show. Our vision for the band is way more theatrical than we had opportunity to show so far, so with a lot of headline touring ahead, we are definitely closer to our intended vision than ever before.
CAN YOU EXPLAIN THE TRANSFORMATION FROM PAPA EMERITUS, WHO IS CREDITED ON OPUS, TO PAPA II?
Papa I had sat his years and it was time for the succession. The major difference between the two dudes is probably the age: Papa I was in his 80s whereas Papa II is around 50. A little more mojo.
A WHOLE FUCKING LOT HAS BEEN SPECULATED ABOUT GHOST'S MUSICAL INFLUENCES. MERCYFUL FATE, BLUE ÖYSTER CULT, VOIVOD, ETC. HAVE ALL BEEN MENTIONED IN CIRCLES. WHAT THE FUCK ARE YOUR MUSICAL INFLUENCES THESE DAYS?
Our music style originates from several sources and we hope that we end up with something that isn't easily recognized as something else. I mean, we draw almost equal amounts of influence from albums like Necrophagia's Season of the Dead or Possessed's Seven Churches as we do from Echo & the Bunnymen's Ocean Rain or The Doors' Strange Days. I think that what sets up apart from other bands, especially ones that also mix styles of music, is that we make it sound natural as opposed to haphazardly glued together. Might be the simple fact that the songs are written primarily for vocals first and then enriched with actual riffing and instrumentation, whereas most heavy bands concentrate on the riffing first and then add a little bit of vocal lines in between, I suppose.
AS FAR AS AN OVERALL LYRICAL IMPRESSION, WHAT IS THE LITERALMESSAGE ON THE NEW ALBUM?
Most of our songs have a literal meaning and a subliminal one. The literal message of the album is the concept of a devil and his son in our presence as we speak. Or more specifically, how mankind relates to this and how mankind chooses to tag things either as works of the devil or as something else, something that she prefers shouldn't be confused with human ambition and her will to progress. It is about how we treat our souls and our choices in life from a position where "what we can't explain" has too much or too little meaning.
I KNOW THAT THE NEW SONG "BODY AND BLOOD" HAD A VERY SIGNIFICANT MEANING TO YOU. CAN YOU EXPLAIN THAT SIGNIFICANCE?
Being tattooed on your arm, I know that the phrase has a very deep meaning to you, too. Our use of it is not in order to put emphasis on the term itself, but the symbolism of its Christian contradiction when thinking of the communion a few steps ahead. Literally. Whatever you put in your mouth will come out later. As does the body of Christ.
WITH POPE BENEDICT XVI STEPPING DOWN, WOULD YOU CONSIDER TAKING HIS THRONE? IF SO, WHAT WOULD BE THE FIRST MOVE YOU'D MAKE AS THE NEW BOSS IN VATICAN TOWN?
Papa is a sucker for his own space, but after seeing to it that cardinals and such have been dismissed, he'd probably do the predictable stuff: Like legalize same-sex marriages but meanwhile promote divorce. Insist on the use of contraceptives, and first and foremost – legalize marijuana.
WITH GHOST BEING COMPLETELY SHROUDED WITHIN AN ANONYMOUS GAGGLE, I'D LIKE TO KNOW HOW DO YOU KNOW THAT THE SINGER FOR GHOST ISN'T ME?
Well, I don't really know myself. Papa, being a recluse, is someone that I don't talk to very often, hardly meet except for onstage. And considering that I bump into you every now and then, as well … Are you?
---